What is certificate attestation in Dubai UAE?
Dubai has now become a hub of investors and entrepreneurs, who just want to earn money and grow their businesses. Every year thousands of people are moving their base to Dubai so that they can start a new business in the city. There are several other cases also where people just visit Dubai for short time, such as to get a signatory attestation done. UAE attestation or document attestation is an important service that document verification and authentication providers can offer to their customers. This service can be used to verify the authenticity of a document or to provide proof of the document's existence. The documents might be educational documents, employment documents, or business documents.
Why is certificate attestation or document attestation required in Dubai, UAE?
There are many reasons why you should get your documents attested. Here are some:
It helps to avoid fraud and identity theft.
It authenticates your documents as genuine and valid. It ensures that these documents are not forged or fake.
It ensures that the certificate or document has not been tampered with or altered in any way since its issuance by a recognized authority.
It helps you save time since certificates won't be rejected at the immigration counter due to incorrect information or mistakes in the document itself such as wrong name or age etc…
A certificate may need attestation if it is issued by a foreign university or institution and you want to use it while studying abroad or getting an employment opportunity with an organization based outside of your home country.
If you have applied for a visa with your educational qualification certificate and wish to get it attested by the embassy because they require additional information such as proof of identity and nationality before accepting the document as valid proof of academic qualifications.
Business document attestation in Dubai :
Business document attestation in Dubai is a process to verify the authenticity of documents, certificates, and other important papers. It is a legal requirement for all companies and individuals who wish to do business in Dubai. It is also necessary if you want to get a work visa or residency visa in Dubai. Business document attestation in Dubai is required for the documents that are to be used for business purposes in Dubai like:
In order to form a business setup in Dubai, your company needs an authorized representative. This person must be physically present at the registered office address and responsible for any legal action against the company.
It is mandatory for all companies doing business in the UAE to have their documents attested by authorized agencies such as the Chamber of Commerce or Ministry of Foreign Affairs depending on their type of activity. This process helps prove that the original document has not been tampered with and has been issued by an official authority.
To open bank accounts in different countries.
When signing contracts or agreements with other parties.
When applying for loans from financial institutions.
In order to avoid double taxation purposes.
when transferring the ownership assets or business trade license.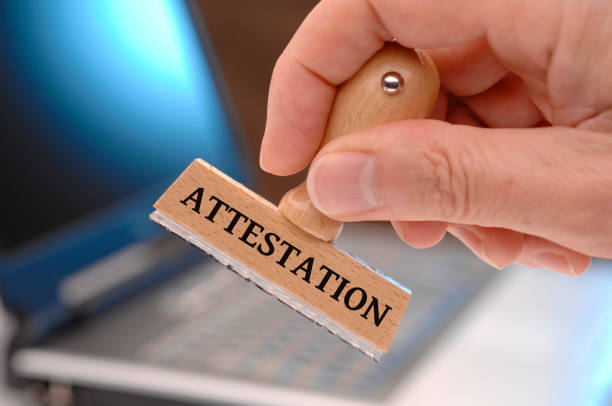 What are the different types of document /certificate attestation in Dubai UAE?
There are two types of attestations available – public and private attestations. Public attestations can be issued by authorized government bodies such as courts, embassies, etc while private attestations can be issued by anyone who holds a valid license from government authorities. Below are the few attestation categories that come under the types.
Dubai notary public: A notary public is a public officer appointed to certify documents, administer oaths and affirmations, take depositions and statutory declarations, and perform civil marriages and other ceremonies. This attestation is required for all official documents including birth, death, and marriage certificates, academic certificates, criminal records, etc. The notary public will need the original document along with the copy. The document then has to be stamped with the notary seal and signature. This stamp has to be attached to the original document along with an attached stamp paper which needs to be signed by both parties involved in the transaction. The signed stamp paper along with all other documents is then sent to the UAE Embassy/Consulate in your home country where it will be authenticated with their official seal and returned back to you within 2 weeks' time.
Dubai Ministry of Foreign Affairs attestation: The Ministry of Foreign Affairs (MOFA) is responsible for issuing passports and travel visas to citizens who wish to leave the UAE. The MOFA also provides advice on immigration law and processes applications for residence permits or visas on behalf of employers who want to employ foreign nationals in the country.
Dubai Chamber of Commerce & Industry (DCCI): The DCCI assists with obtaining work permits and visas for foreign workers. It can also assist with registering businesses in Dubai; however, it does not provide legal advice on how to register your business.
Ministry of Justice
How we can help you with document attestation services:
At Business Setup Dubai, We are one of the most trusted and reliable certificate attestation services in Dubai, UAE. We provide all types of certificate attestation services in the UAE like company formation certificate attestation, education certificate attestation, birth certificate attestation, Divorce contracts, Marriage certificates, Medical certificates, Powers of attorney, Memorandum of association/article of association, other Commercial contracts, and invoices (for business purposes), Death certificates (for inheritance purposes).
We are registered with the Ministry of Foreign Affairs and International Cooperation (MOFAIC), Dubai Courts, and Supreme Court to offer our services. Our services are not just limited to UAE but we also provide our services to other countries like Dubai, Sharjah, Abu Dhabi, Fujairah, Umm Al Quwain, Ajman, and Ras Al Khaimah.
We have an experienced team who can handle your work with perfection and accuracy. Our team will make sure that you get your work done on time without any delay. If you need any kind of attestation and related services, then feel free to contact us today for a free consultation!